Snow Camp Opportunity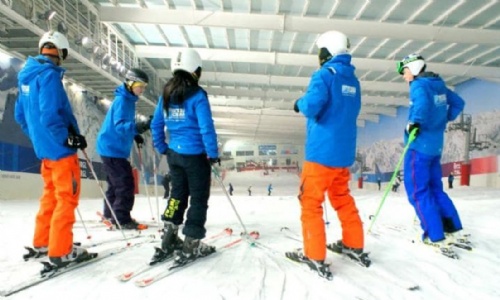 Snow-Camp is the UK's only charity using a combination of snowsports, life skills and vocational training to support inner-city young people. We have been working successfully in London and Scotland for some years now and are currently expanding to 5 locations across the UK (inc. Bristol). We have had some fantastic media coverage over the last month highlighting the pathways which Snow-Camp could open up. With articles on BBC Get Inspired pages and The Telegraph, the follow a young person from Hackney who began his journey with Snow-Camp three years ago and is now working in Switzerland as a Ski coach.
http://www.telegraph.co.uk/travel/ski/news/ski-snowboard-charity-snow-camp-winter-sports-inner-city-youth
We are looking for young people (13-21) to get involved in our brand new Snow-Camp Bristol Spring First Tracks Programme's, offering the opportunity for young people from across Bristol and the surrounding areas to try snowsports for the first time at Gloucester Ski and Snowboard centre and potentially progress from beginner skiers and snowboarder's right through to qualified snowsports instructors as the Bristol programmes develop. Bristol born Olympic Bronze Medallist & Snow-Camp Patron Jenny Jones began her career on a dry slope and is backing this programme!
Snow-Camps FIRST TRACKS 2 day introduction to skiing and snowboarding provides young people with their first introduction to snowsports. Combining snowsports training and instruction with Life-skills sessions on independence, responsibility, confidence and self-esteem. Young people gain an accredited Snowsport England Snowlife Award on completion of the course.
Our Aim and Objectives are simple:
OUR AIMS
ENGAGE youth by providing a young-people-friendly journey of accessible programmes.
TEACH youth-at-risk the skills they need to raise their aspirations, improve life chances and gain employment opportunities.
IMPROVE levels of accessibility and participation in snowsports for inner-city young people.
PROVIDE an environment where young people can thrive, develop and have fun.
OUR OBJECTIVES
DEVELOP SKILLS – To help young people transform their attitudes, behaviour and increased self-esteem. To gain a range of accredited qualifications, improving their CV and credentials.
BROADEN HORIZONS – Take young people out of the city to a new environment, to change attitudes, encourage cross-borough friendships and challenge territorial bias that leads to gang culture today.
PROMOTE HEALTHY LIVES – Develop an interest in maintaining a healthy lifestyle from learning a new sport.
PROVIDE VOCATIONAL OPPORTUNITIES – Offer apprenticeships, work-experience, volunteering and employment within the snowsports industry, moving young people from NEET to EET or unemployable to employable.
DATES
We are very excited to announce our launch dates:
Saturday 25th – Sunday 26th March
Saturday 1st – Sunday 2nd April
Saturday 13th – Sunday 14th May
This will be followed with our Summer First Tracks programme, where we would have scope for more Young people to join us.
PRICE
The cost of the two day course is £ 99.00. This includes;
4 hrs Snowsports Training and Instruction, over two days.
Life-Skills sessions focused on key youth issues.
Gain an accredited Snowsport England Snowlife Award.
Awards ceremony, certificates and medals.
Packed lunch both days.
*We do have funding available to help with the costs of the course and can offer our a Buy-One-Get-One-Free on our Spring spaces. Please get in-touch!
Snow-Camp First Tracks could just be the start! Our aim is to replicate the full Snow-Camp journey here in Bristol offering young people the opportunity to progress from beginner skiers to qualified snowsport instructors. To see details of our journey please see attached pdf.
Please advertise this fantastic opportunity to your Young people and Staff. Thankyou!
For more information or to register your youth project please contact Andrew Kimber at andrew@snow-camp.org.uk or call 07732204767.