Classic Bristol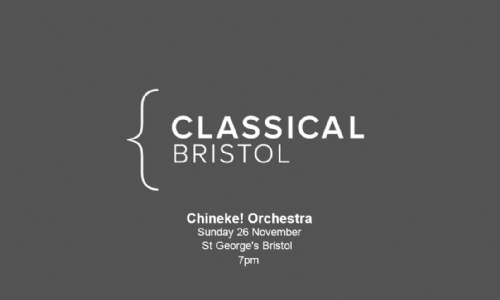 This is Classical Bristol
Treat yourself this October
This month it's all about Bristol! Celebrate our city with the Bristol Choral Society, Brandon Hill Chamber Orchestra, the Bristol Classical Players, and the Bristol Symphony Orchestra. Soak up the genius of Chineke! Orchestra at St George's; do some talent-spotting at The Lantern's lunchtime concert series; for the adventurous, there's a trip to Russia with the St Petersburg Symphony Orchestra. Spend this month basking in glorious music - pick your concert, and let the music do the rest.
CALENDAR
October - November 2017
INSIDE THE MUSIC...
VIDEO: Jonathan James - Beethoven Piano Concerto No. 3
Beethoven's concertos are some of world's most loved music. For the performer, each work is a mammoth task, involving months of preparation, not only physically, but mentally. Lucky for us in the audience, the experience is enthralling – more than a few people have fallen in love with classical music through Beethoven. Let Jonathan James give you a taste of the power, complexity and intensity of Beethoven's Piano Concerto No.3 ahead of David Fray's performance with BSO at Colston Hall next month.

Watch now
FEATURES
Passion's Peak
Get ahead of the game and spend some time exploring the wonderful music that will be performed by the St Petersburg Symphony Orchestra this week. Discover the poetry of music in a whole new light, and learn what to keep an ear out for in these brilliant and complex pieces.

Read More
Review: Aurora Orchestra: Vienna, City of Dreams
St George's spent a spectacular two hours with the Aurora Orchestra, Dame Sarah Connolly and Andrew Staples, who's performance of Mahler's epic song cycle was a night for the history books...

Read More
Composer in Focus: Tchaikovsky
Tchaikovsky was Russia's first great composer: his turbulent life, like many famous artists, attributed to the effects of his genius. The composer of the Nutcracker and Romeo and Juliet was full of romance and stunning music: take a look at the man behind some of Russia's musical revolution - and then spend an evening in his company at Colston Hall's Passion's Peak.

Watch now
Venue Choices
Colston Hall picks
Bing & Ruth (17/11)
For the modern classical music fan, this night of minimalism is not to be missed!

St George's picks
Trio Palladio (03/11)
Let yourself be transported by some of the world's best chamber music in a night of masterful splendour.