Bristol Soup Event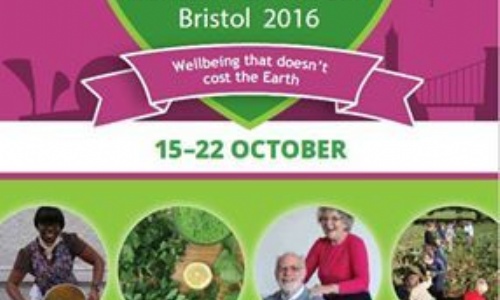 The next #BristolSoup event is just around the corner.
And guess what! The event will also be part of the fantastic #HealthyCityWeek. So please have a look at all of the amazing events happening across the city if you can.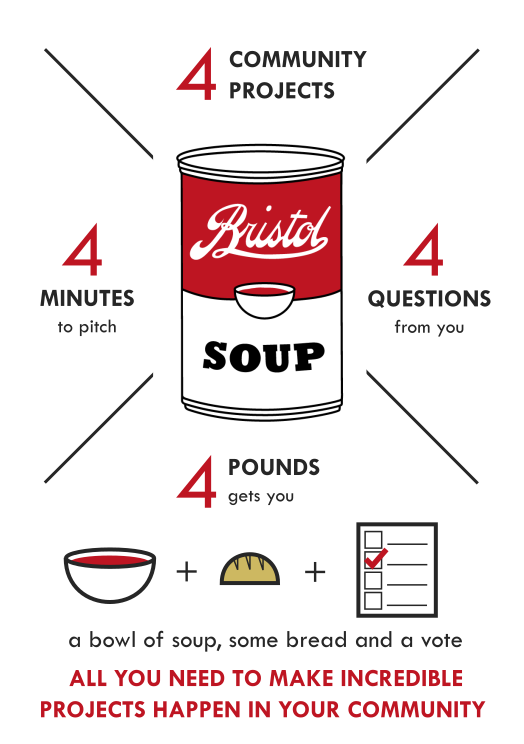 You can find all the details of the next event on Facebook here:https://www.facebook.com/events/156774434759006/
Tickets are available to purchase online here:http://www.bristolticketshop.co.uk/eventdetails.aspx?e=13170
The last two events have been a roaring success with funds going to Bristol West Indian & Phoenix cricket club and the mental health charity Positive Minds.
Please help spread the word! Invite your colleagues, neighbours, friends and anyone you can find to help exciting projects happen in your community.
We have been very busy and have even made a video to explain #BristolSoup so please check it out:
https://www.youtube.com/watch?v=AbJGMC62jq4
The next event will be on Wednesday 19 October
The schedule will be:
6.30pm - Introductions and the 4 projects pitch
7.30pm- Eat, Soup, talk and vote! (with some lovely music)
8pm- Find out where your lovely soup came from and hear from our previous winner Positive Minds
8.30pm- Votes are announced and the third Bristol Soup winner is crowned!
The address is: The Rose Centre, 65 Gordon Rd, Avon, Bristol BS5 7DR
What is SOUP?

FOUR projects present their ideas - anything from planting city flower beds to funding a football team or starting a new business.

Each project has FOUR minutes to present their idea.
The audience can ask each project FOUR questions.

FOUR pounds buys you a bowl of soup, and a vote (please register on our Eventbrite and pay on the door).

The project with the most votes wins the money from the door.

We are operating a BYOB - Bring your own BOWL + SPOON policy to cut out disposables. Please don't forget them!

We are also encouraging people to bring food to share. If you bring a dish you are given the opportunity to tell the audience about a project you are running or a shout out for more football players etc.

Find out more on our website- www.bristolsoup.com

If you are interested in the event, fancy getting involved or have an idea you would like to pitch, contact us on our email:soupbristol@gmail.com.
The deadline for pitches is this SUNDAY 2nd October.
You can buy online tickets here: http://www.bristolticketshop.co.uk/eventdetails.aspx?e=13170
Please send us an email if you have any questions!
Soup love,
Jenny and the Bristol Soup team