Sports/PE News - 10 November 2017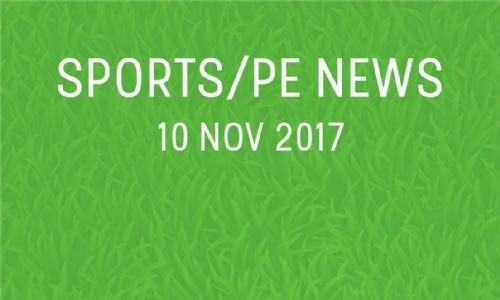 Latest Sport/PE news from the week.
Bristol Schools Swimming Gala
Well done to all the students who competed last night at the Bristol Schools Swimming Gala (3) at Easton Leisure Centre. Results will be published early next week with the qualifiers invited to take part in the Finals at Horfield Leisure Centre on Thursday 23rd November.
Year 8 Rugby Festival
The year 8 rugby team traveled to Orchard school this week for a festival. Along with the hosts, the opposing schools were BBA, Fairfield and Oasis Brightstowe.
The first game was a very scrappy affair versus a physical Fairfield side and Cotham only had themselves to blame for falling off of tackles and not exploiting large gaps in the Fairfield defensive line. Resultantly Fairfield won the game 3 tries to none.
Once the evaluation of this lacklustre performance was complete the team the sprung into life and rolled out consecutive high class performances in the following 3 games. most impressive of all was the 10-10 draw with Oasis which consisted of numerous 10 phase possessions and a highly structured defensive line.
notable mentions must go to Fiontan Firth Williams for his outstanding work at the breakdown. As well as the half back pairing of Isaac Kane and Freddy Aitken who led the attack confidently allowing the likes of Joel Williams, Max Bragonier and Yankuba Janneh to make storming runs out wide
Overall the team won 2 games, drew 1 and lost one.
U/13 Girls Football Festival
The girls played brilliantly throughout the day, but towards the end of the day they got tired. For a team that's never played a competitive match together they were brilliant. Some amazing individual moments and some quality goals scored. If there was an extreme fair play award they would hands down win. They were the only team to apologies to others during the game. There is plenty of potential within the team to become very good and it would be great of they could compete at that tournament in year 9. They were a pleasure to take and did Cotham proud. Their behaviour was impeccable and they were a lovely group to take to the tournament. No divas, they supported each other and didn't mind too much when they lost.
Overall results
Lost 5,
Won 3
Drew 1.
The girls that took part were
Amina Birdi - Played Goal Keeper, Excellence and progressively got better as the game went along
Isla Brand - Midfield - Excellent skills and determination (Star Player)
Esme Pykett - Midefield and appointed player marker for the oppostions strognest players. Completely marked their star players out of the game. (Star Player)
Fern Cory - Striker and midfeild, Played well and determined
Douyoun Kwon - Our star striker and Star Player - Excellent skills etc all around brilliant
Iola Budden - Defensive Player - Solid in defence and played very well
Zara Isse - Midfield, striker, goal keeper, defensive player. Played everywhere and was an all round player. She got progressively better throughout.
Amy Howe - Defensive, midfield and striker. Played every where and got progressively better. Made some quality passes
Fixtures w/c 13th November.
Tuesday 14 Nov - Year 8 netball Festival @ City Academy (5.45pm return)
Thursday 16 Nov - Year 11 GCSE PE girls & boys Badminton Comp @ BGS 4.00pm - 5.30pm
Thursday 16 Nov - Year 10 Netball Festival @ St Bedes (5.45pm return).