Sport/PE News 27 April 2018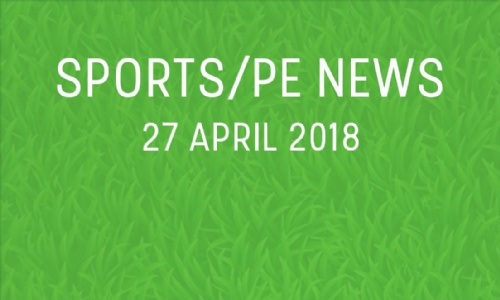 Year 11 Bristol Schools Boys Football Champions
Year 11 are champions of Bristol after a stunning 6-0 win against St Bernadettes. Goals from Nyheam x3 Dee x2 and Alfie
Thanks again for your support in allowing them to miss lessons and your good luck messages. The students really appreciate the positive words! We progress onto the Bristol vs South Glos final on Tuesday against Bradley Stoke.
Leon Hartl, Rahel Jafar, Ben Landry, Ollie Merry, Mike Illade, Samson Coshia, Dee Grey, Alfie Lewis, Marley Dibble, Lyle Renwick, Nyheam Kefentse, Asher Campbell, Yayha Jama, Hud Hassan, Aroon Karim
Year 10 Bristol Schools Boys Football runners up
Unfortunately the year 10 boys team came up against a very strong Oasis John Williams team losing 2-4. After conceding early, the boys scored against the run of play but found themselves 1-2 at half term. We started the second half well, putting their goal under pressure but were caught on the break to go 1-3 down. With 3 minutes to go we scored a second to set up a tense. However, with seconds to go we conceded a penalty with was saved superbly but they scored rebound to make the final score 2-4.
Team: Eric McFarland-Bond; Sid Bass, Will Lee-Harvey; Arun Brooks, Lucus Cameron, Tazz Clarke-Downer, Paulo Antiono, Callum Murch, Olly Southwell, Josh Gibbons, Jude Bounds, Dee Hylton & Aineisa Arango.
Swimming
Congratulations to Reuben West who came 3rd in the final of the boys secondary schools Individual Medley.
Fixtures w/c 30 April
Tuesday 1 May - Year 11 football County final vs Bradley Stoke @ Coombe Dingle 4pm KO
Thursday 3 May - Year 10 football 2nd Round County Cup vs St Bedes (a); All years girls rounders vs St Bedes (a)