Sports/PE News - 27 January 2017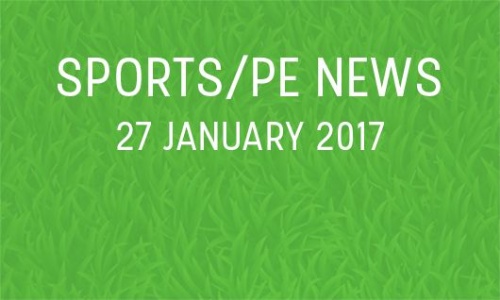 The latest sports/PE news from Cotham School.
Football results vs Henbury
Year 7 lost 0-8
Year 8 drew 1-1
Year 9 won 3-1
Year 8 Match Report
This week the year 8 football team began their campaign for the year. After reaching the semi finals last season, hopes were high and a strong team had been selected.
Our opponents were Henbury and Cotham soon began to dominate posession in the game with skipper Tom Brazier and the fleet footed Alfie Luing controlling the game fgrom midfield with a series of mazy runs and intricate passes.
Cotham's main threat seemed to be coming from the left hand side where Mekhi Duncan and Jordan Hunt interlinked seamlessly as a full back, winger combination. It was indeed the left side that created Cotham's first clear cut chance of the game as a Henbury player desperately lunged in for a challenge ion the edge of the box resulting in a penalty. The penalty however was agonisingly missed as the ball bounced back off of the post.
Just minutes later a dangerous cross from the right brought another gilt edge opportunity but we were unable to capitalise and the score remained 0-0 at half time.
Early in the second half a quick counter attacking move gifted Henbury the opening goal against the run of play. It seemed that Henbury's goal was to be the winner until Flynn Hunter got himself in front of his opposite man to accurately place a header into the back of the net. That was to be the final goal of the game and it finished 1-1.
Noteworthy performances include the two centre backs, Ali and Tiye who were rock solid in defence. Also Beni Labamba who cut out many potential attacks from his position as a holding midfielder
Year 9 Match Report
The year 9 team made a great start to the season beating Henbury 3-1 in a very competitive match.
Cotham started strongly but found the Henbury keeper in fantastic form saving numerous times to keep the score 0-0 until Paulo Antonio hit a screamer from the edge of the box into the top left hand corner. However, Henbury hit back straight away when a poor clearance from Eric McFarlane-Bond in goal went directly to their striker.
With a few tactical changes made at half-time, the boys started the second half with a higher tempo, moving the ball quicker and putting more pressure on the Henbury players. This resulted in the team scoring a further two goals by Jude Bounds and several other chances being wasted too.
A very good team performance especially from Will Lee-Harvey, Olly Southwell Callum Murch and Arun Brooks.
Sporting Fixtures w/c 30th January
Tuesday 31st Jan - Year 10 & 11 boys football vs Bristol Free School (a)
Wednesday 1st Feb - Years 7, 8 & 9 boys football vs Bristol Free School (a)
Thursday 2nd Feb - U/14 Junior Girls football vs Henbury (a)