Sports/PE News - 23 June 2017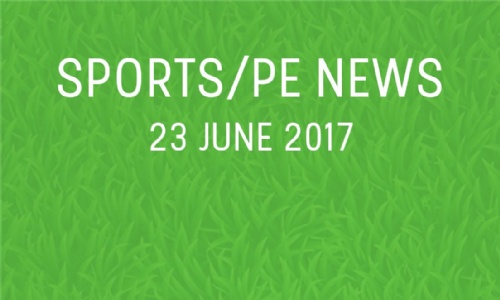 Latest Sport/PE news from the week.
English Schools Athletics
Congratulations to Abdifataah Hasan (year 10) and Charlotte Martin (year 9) who have both been selected to represent the South West Athletics Team in the 800m and High Jump events respectively at the English Schools Athletics Championships on the weekend of 8/9th July.
Abdi ran a qualifying time of 1:56secs and also set a personal best of 4:05secs to finish 1st in the U/17 1500m competition.
Charlotte, during the season jumped a personal best of 1.57m and finisjed 5th at the SW Championships with a best jump of 1.51m.
Also, congratulations to Kasavia Smolka-Headley (year 7) who won the Minor Girls 100m event at the SW Championship but unfortunately there is no minor girls events at the English Schools. Hopefully Kasavia will continue her excellent form when she steps up to the Junior Girls level next year.
Cricket results
Junior boys beat St Bedes by 1 run!
Senior boys (43 all out) lost to RGS (81-1)
Rounders results vs St Bedes
Year 7 lost 3-13
Year 8 lost 9-10
Year 9 lost 11-16
Sportshall Athletics Result vs Bristol Grammar School
Well done to all the year 7 and 8 boys and girls who took part in a sportshall athletics competition against Bristol Grammar School. In a close competition between the two school, Bristol Gammar school narrowly won overall winning the year 7 boys, year 7 girls and year 8 girls events but lost to our year 8 boys team. All students performed very well and were a credit to themselves and the school.
Bristol Rovers Showcase Girls Football Session
Bristol Rovers FC will be running girls football session after school 3:30pm till 4.30pm on Thursday 29th June. ALL GIRLS WELCOME, weather you just started playing or already play football outside of school. Come along and give it a go. All you need is your Cotham PE kit.
Cotham School Sports Awards Evening 2017
Our annual Sports Awards Evening will be taking place on Monday 10th July 6pm-730pm in the main hall. Our guest for the evening is Kate Comber, a professional Iron-man athlete and has recently qualified for the World Iron-Man Championship in Hawaii.
Invites to will be sent out soon to students who have represented the school and attended extra-curricular clubs regularly.