Sports/PE News - 18 November 2016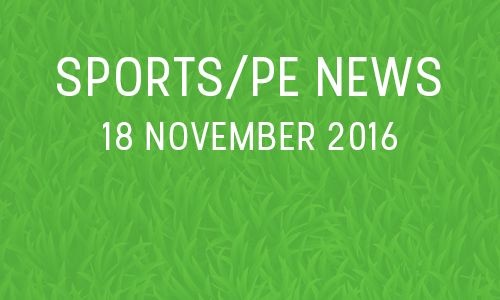 Year 11 - Bristol Netball Quarter Final Game
Year 11 girls played Redland Green on Monday 14 November. The game started promising with Georgia Dowell and Chloe Bailey feeding in the ball to Emily Galiford and Lily Quinn. Some excellent interceptions from Lily Ross and Ishba Mahmood. Frankie Brown provided the pressure on the ball down the court. The first quarter finished with RGS leading by 1 point.

The game progressed with Cotham working hard to stop the counter attack of RGS however couldn't quite score as many goals as RGS.

The final score was 18 - 16 to RGS. Player of the match was Ishba Mahmood. A big thank you to Ishba and Georgia Stephenson for playing up for the year 11 team.
Year 8 Rugby Festival
Well done to all the boys who tool part in the year 8 rugby festival at Orchard on Wednesday as the weather conditions weren't ideal for running rugby.
Cotham played five matches, winning two, losing two and drawing one. See results below:
Lost - Oasis Brightstowe 0-15
Draw - Orchard 10-10
won - Bristol Met 15-5
lost - Bristol Free - 0-15
won - RGS - 15-5
Squad - Kyah Tunniclife (c), Alex Cross, Fin Moger, Finn Collier, Ed Legard, Sam McDonnell, Luca Milne, Rhys Offer, Zaki Abudeip, Kyrese Morrison, Walter Penny, Tiye Thomas-Smith, Cadell Parsons, Kaylen Smith and Felix Lewis.
Year 8 Netball Festival
Year 8 festival held on Wednesday evening against different schools from the local area. Held off tough competition to win the first game but came unstuck in the second and third games against extremely strong teams. Defended extremely well throughout to hold off numerous goals and played well as a team throughout the festival. Players of the tournaments went to Sashanti Ngozi, Chiara Durrani and Charlotte Omiotek.
Junior Sportshall Athletics
Well done to all the year 7 and 8 boys and girls who competed in the Junior Sportshall Athletics Competition on Tuesday at Redland Green. There were some excellent performances and all students were a credit to the school. Overall, the year 7 girls finished 4th, year 7 boys 3rd, year 8 girls 3rd and the year 8 boys 2nd. Hopefully these performance are good enough for Cotham to qualify for the finals (still waiting on other competition results).
Fixtures
Monday 21 Nov - Year 9 girls netball festival @ RGS (4.45pm return).
Wednesday 23 Nov - Cross Country Trials @ BGS (4.30pm return); Year 7 boys 5-a-side competition TBC
Thursday 24 Nov - Year 9 rugby Festival @ RGS (430pm return); Year 7 girls football @ SGS (Filton) (4.30pm return); Bristol Schools Swimming Gala Final at Horfield 5.00pm-8.30pm