Spiritual, Moral and Cultural Development
How are british values promoted at cotham
The promotion of SMSC and British Values at Cotham School.
Cotham School is proud of the diversity of its students and staff. In promoting British values we aim to:
Enable students to develop their self-knowledge, self-esteem and self-confidence.
Enable students to distinguish right from wrong and to respect the civil and criminal law of England.
Encourage students to accept responsibility for their behaviour, show initiative and to understand how they can contribute positively to the lives of those locally and more widely.
Encourage students to acquire a broad knowledge of and respect for public institutions in England. To acquire a respect for the 'precious individual liberties' enjoyed by the British.
Enable students to acquire an appreciation of and respect for their own and other cultures.
Encourage respect for democracy and support for participation in the democratic process.
At Cotham We ensure that students gain a comprehensive spiritual, moral, social and moral education through whole school activities and throughout the curriculum.
Cotham promotes SMSC and British values by:
Maintaining positive local community relations through Cotham's status as a Cooperative academy.
Encouraging student participation in cooperative groups and sub groups.
Welcoming the engagement of ex students and alumni in raising the aspirations of all students.
Involving students regularly in student elections across the key stages..
The use of a house system that rewards achievement, promotes cohesion and through the election of house prefects,
Involving older students in the peer mentoring of younger students.
Awarding student achievements regularly in a variety of ways, including through celebration assemblies and within individual subject areas.
Celebrating sporting and artistic success through the use of Sports and Arts Awards and the use, within PE of student sports leaders.
Encouraging participation of students in school productions and music clubs.
Welcoming students from different countries and cultures as part of cultural exchanges.
Giving students opportunities to experience performances from a variety of performing arts groups.
Giving the opportunity for all students in year 10 to go on a week's work experience placement.
Establishing links to employment and employers through an excellent Careers and IAG programme.
Encouraging entrepreneurship through enterprise activities such as The Real Game and Green Dragons.
Welcoming parental engagement through regular Cooperative meetings.
Offering college partnerships and vocational courses for those students with specific needs or interests
Compiling accurate destinations data on school leavers.
Taking a pride in our students' work through dynamic and thought provoking displays.
Using student ambassadors promoting the school on open evenings, open mornings and parents evenings.
Offering a comprehensive PSHEE and REP curriculum, taught by subject specialists.
Using performance reviews, lesson observations and examination analysis to ensure that all groups of students reach their potential.
Promoting a growth mindset culture that recognises the ability of all students to achieve their potential.
All curriculum areas actively promote British values and SMSC within schemes of work and individual lesson plans. These are listed under 'SMSC and PSHEE at Cotham', 'SMSC and REP at Cotham' and 'SMSC within other school departments' on the school website.
Statement of preventing radicalisation
Cotham School - Statement on preventing radicalisation: June 2015
Cotham School embraces and upholds the values of ambition, creativity, inclusion, respect and confidence. These values support all staff in actively promoting the fundamental British values of democracy, the rule of law, individual liberty, and mutual respect and tolerance of those with different faiths and beliefs.
In March 2015 the Counter Terrorism and Security Act (2015) placed new statutory duties on schools to prevent young people being drawn into extremism. As a community, at Cotham we strive together to uphold a strong, shared culture of tolerance and respect. This statement expresses our commitment to these values, as well as the overall safety and wellbeing of our learners. The statement includes:
The level of potential risk at Cotham School.
Actions taken to address that risk.
Planned actions to maintain appropriate levels of awareness amongst staff and students.
Potential Risk
The current threat from extremism and radicalisation in the UK can include the exploitation of vulnerable people to sympathise with violent ideology, on both the extreme left and right of the political spectrum. The exposure to extreme views may also make children and young people vulnerable to future manipulation and exploitation. Cotham School is clear that this exploitation and radicalisation should be viewed as a safeguarding concern and that staff and governors have a duty to protect young people from the negative influence of extremist groups and individuals. As a school, we are committed to complete dismissal of an "it won't happen here" complacency, to ensure that we always fully safeguard and support our young people.
The School seeks to protect young people against all messages of violent extremism using any means or medium to express views that:
encourage, justify or glorify political, religious, sexist or racist violence,
subscribe to narrow mindsets that are intolerant to diversity,
foster hatred which might lead to inter-community violence,
seek to provoke others to violent acts,
encourage other criminal activity.
Cotham School will continue to assess potential threats to inform the development of relevant policies and procedures. This risk assessment will include consideration of student led activities, arrangements for the use of premises by external groups, use of ICT, school policies on safeguarding and behaviour and the taught curriculum (including RE, PSHE and Citizenship)
Actions taken to date
A number of activities have been undertaken to raise awareness with staff and students and to ensure that the school community understands what to do and who to go to if they have any concerns around the potential radicalisation of a member of the school community. These include
Weekly or fortnightly PSHEE lessons for all students. A full summary of learning in all year groups is available here (document attached for linking).
FROG page for PSHEE developed to provide links to community groups that promote cohesion, tolerance and respect e.g. 'Integrate Bristol', SARI, EACH, Pinkstinks and more.
Hosting of the Workshop Raising Awareness of Prevent (WRAP) delivered by the Avon and Somerset Prevent team to all teaching and associate staff.
Active involvement with officers from Avon and Somerset's Prevent team, including resource sharing.
Workshops and activities for all year groups to encourage open and challenging dialogue around British values, these include: performance poetry workshops, Post 16 wellbeing seminars, assemblies and tutor activities.
Member of senior team appointed Prevent and Channel representative, with associated training.
Advice to families available on our website including Advice to Parents and Carers on Keeping Children and Young People Safe Against Radicalisation and Extremism (issued by Tower Hamlets LA, Bristol update still being put together, will switch when published – document attached for linking).
Updates to the school's safeguarding policy to reflect concerns about extremism and radicalisation.
Implementation of up to date ICT filtering systems.
Planned actions
Ongoing assessment of risk.
Work with community groups and parents' associations to provide information and awareness raising to parents and families.
Actively engage with key stakeholders such as other schools, the Local Authority, Avon and Somerset Police and the Department for Education to develop shared approaches at a local and national level.
SMSC and PSHEE at Cotham
Spiritual
Understanding how physical, intellectual, emotional and social wellbeing (PIES) can affect a person's general sense of well-being.
Learning how to be kind to themselves and learning healthy, non-harmful, ways to deal with stress.
Recognising factors that affect self-concept, such as age, appearance, family background, education.
Understanding how a healthy balance of PIES can affect how a person responds to expected and unexpected life events (link to developing emotional resilience).
Understanding self-esteem and the link between positive self-esteem/self-confidence and success both academically and personally.
Understanding how physical and mental health are closely linked; keeping a healthy body and a healthy mind.
Investigating links between legal and illegal drug use and mental health problems.
Understanding how positive parenting contributes to a happy family life.
Considering the possible physical and emotional consequences of starting a sexual relationship at a young age, including teenage pregnancy.
Understanding the effect of hormones on the body and brain.
Investigating the importance of getting enough sleep and its impact on the body and brain.
Understanding the impacts of homophobic bullying on self-esteem and identity.
Understanding how body image can affect people in different ways and some problems that it can cause.
Signposting organisations that can help young people deal with sex and relationship issues.
Investigating the roles of different charities and organisations dealing with mental health or relationships (e.g. 'Mind', 'Relate').
Recognising the importance of financial wellbeing: the benefits of earning your own money; the importance of budgeting for the future and avoiding debt.
Appreciating the benefits of a healthy work/life balance.
Moral
Considering what makes a person a good or a bad parent, friend or employer.
Understanding how to resist peer pressure in a variety of scenarios.
Understanding laws concerning drug use, sexual consent and discrimination.
Debating issues of a controversial or sensitive nature (e.g. attitudes towards contraception; pornography; FGM; political and religious extremism).
Studying the lives or careers of people who have made difficult moral decisions.
Debating issues surrounding wealth inequality, taxation, social protection and workers' rights.
Social
Understanding how arguments can be resolved between parents and children and with their peers by being assertive.
Considering the impact of bullying on the victim and the role of bystanders on perpetuating bullying (including cyber bullying).
Knowing what behaviour is appropriate and inappropriate in online scenarios.
Understanding the causes and consequences of different types of prejudice in society and in the workplace.
Recognising potentially abusive behaviour in relationships.
Understanding the positive and negative potential consequences of modern technology, including social networking.
Understanding power relations in relationships and how an imbalance of power can lead to abuse. Understanding healthy behaviours, pressures in
relationships.
Understanding the importance of consent and respect in a healthy relationship.
Different types of legal adult relationships (marriage, cohabitation, civil partnerships) and how they might contribute to personal wellbeing.
The link between PIES and the world of work; building positive professional relationships; recognising personal worth and achievements (writing a CV,
applying for jobs).
Investigating some of the social effects of drug use, in particular alcohol and cigarettes.
Evaluating the dangers of so called 'legal highs' and whether some drugs are less harmful than others.
Cultural
Studying positive and negative stereotyping in the culture and how they are related to sexism, racism, homophobia, disablism and religious prejudice.
Investigating how the media and advertising can promote unhealthy images and help to promote unhelpful stereotypes.
Considering how the global nature of the internet can help to promote positive images of women, gay people, disabled people and how it can help
raise awareness of issues surrounding equality and tolerance (e.g. race and religion).
Thinking about Bristol's role in the slave trade and how its involvement can be recognised and the victims remembered.
Understanding how fashion magazines and the media promote unrealistic ideas of what makes the 'perfect body'.
Discussing issues related to extremism; what causes people to have extremist views? What can be done to stop them having extremist views?
Exploring and critiquing different cultural attitudes towards sexual behaviour and relationships.
Understanding the importance of democracy and how political parties represent a variety of political viewpoints.
Understanding the difference between cultural and religious practices and how they relate to British value and individual liberties.
Understanding how the British governments spends revenue raised through taxation – origins and extent of social protection and the welfare state.
SMSC and REP at Cotham
Spiritual
Making links between beliefs and religious teachings and show how they are connected to believers' lives.
Asking questions about human identity and spirituality and suggest answers which refer to people and ideas that influence self and others.
Suggesting ways spirituality and belief can be expressed.
Examining the concept of truth and the difference between fact and belief.
Suggesting reasons for religious belief and explain the role of religious sources in providing answers to important questions.
Explaining the challenges of belonging to a religion and explain personal inspirations.
Having the opportunity to take part in a guided imagery to reflect on who they are.
Comparing Buddhist, Christian, Islamic and Humanist perspectives on the self and the implications upon actions/way of life.
Understanding why some religions require submission to God.
Understanding what it means to have faith.
Understanding the importance of prayer for people of faith and to question whether there is any benefit to prayer.
Considering ideas about what happens after death.
Considering whether there is a purpose to existence.
Thinking about the nature of belief and non-belief.
Having the opportunity to use stillness and contemplation as an expression of spiritualty.
Considering what it means to be happy, with a particular focus on Buddhism.
Understanding that a creed is a statement of belief and that such statements have great significance in many communities.
Considering the notion of religious belief and doubt by describing a time when they have doubted.
Considering arguments raised about the existence or non-existence of God.
Questioning the nature of God, using terms such as omniscient, omnipotent and omni-benevolent.
Moral
Considering the idea of "good" and "bad" reasons for a belief as opposed to "right" and "wrong" beliefs.
Considering whether you need God to be a good person.
Understanding what drives people to fast, make personal sacrifices and go on pilgrimage.
Learning how religions encourage people to be charitable.
Discussing ideas of destiny and free will. To ask questions about who or what controls our lives.
Making moral decisions and understand what is meant by 'doing the right thing' in given situations.
Considering how animals should be treated in our society.
Understanding religious attitudes towards the environment such as conservation and stewardship.
Considering the relative importance of human with regards to other living species and the Earth as a whole.
Discussing how justice should operate in various situations ('An eye for an eye').
Evaluating different systems of justice, including the concept of 'natural justice'.
Understanding how rights and responsibilities are linked.
Studying how religious figures have fought for justice and equality.
Exploring how religions explain injustice and evil in the world.
Understanding the importance of forgiveness and restorative justice.
Appreciating different religious responses to controversial issues such as euthanasia, contraception, homosexuality, divorce, IVF, transplantation and abortion.
Reflecting on personal values and considering which values are most important.
Studying different religious attitudes towards crime and punishment and codes of conduct.
Social
Understanding the importance of being good to others.
Suggesting reasons for the similarities and differences in the ways Rastafarians, Christians and Jews express their belief, ideas and feelings of freedom.
Considering if specific religious beliefs and values can always be compatible with British values.
Reflecting on how people, including religious people, might respond to threats to the world and suggest possible solutions.
Understanding how religions and beliefs engage in dialogue with one another and promote community cohesion?
Investigating links between religion and violent extremism.
Reflecting on the responses of religious leaders to acts of religious extremism.
Understanding how similarities and differences within and between religions can make a difference to the lives of individuals and communities.
Studying different attitudes towards personal relationships, including the importance of marriage.
Considering attitudes towards women in different religions and the roles women perform within different religions.
Exploring examples of prejudice and discrimination in society with specific reference to sexism and racism.
Exploring the challenges of multi-culturalism, including mixed marriages.
Considering how religions can be pluralistic, inclusive and exclusive.
Cultural
Making links between Buddhist, Christian and Hindu teachings about how the way we live affects who we are.
Understanding key cultural events, including pilgrimages and celebrations linked to the major religions.
Considering how or whether religion and science can coexist.
Exploring how belief can be expressed through religious objects.
Using religious vocabulary to describe the message(s) of music written by religious believers and suggest meanings.
Making links between Buddhist, Christian and Hindu teachings about how the way we live affects who we are.
Understanding key cultural events, including pilgrimages and celebrations linked to the major religions.
Considering how or whether religion and science can coexist.
Exploring how belief can be expressed through religious objects.
Using religious vocabulary to describe the message(s) of music written by religious believers and suggest meanings.
How SMSC is promoted within departments
Click on a department below to see how SMSC is promoted within that department:

PSHEE & Relationships and Sex Education (RSE) at Cotham School
Rationale
The Personal, Social, Health and Economic Education (PSHEE) programme is taught by specialist teachers as a core timetabled subject. Starting in Year 9 and continuing into KS4, all students will study towards a Level 2 qualification in 'Personal Wellbeing' (Gateway Qualifications). This replaces the 'Preparation for Working Life' Level 2 qualification which has its last examination in 2019. The qualification is gained through continuous assessment and students will study the following units: Healthy Lifestyles; Sex and Relationships; Body Image; Eating Disorders; Drugs and Substance Misuse; Understanding Stress; Equality and Diversity; Understanding Risk; Beliefs and Values; Self-esteem and identity.
Students in Years 7,9,10 and 11 receive two lessons a fortnight. Relationships and Sex Education (RSE) is an integral part of this course and will become statutory for all students from September 2020. The resources used and topics taught are regularly reviewed to ensure that information is accurate and pertinent to students' needs and age. Cotham already has a comprehensive RSE curriculum, taught within the existing PSHE curriculum which can be viewed on the school website.
Our SRE (Sex Education and Relationships) policy states that:
Sex education is an entitlement for all students at Cotham. This is in recognition of the importance of encouraging the development of responsible sexual attitudes and behaviour as students move to adulthood
The moral framework will reflect the overall ethos of the school and show respect for diversity of cultures and beliefs within the whole school community. The delivery is factual and balanced with opportunity for questions and discussion
Sexual relationships will be presented in the context of human relationships such as parenthood and families, acknowledging the individual differences within family make-up
The programme seeks to promote values common to all faiths and societies with respect for human life and dignity"
This policy is currently under review to reflect RSE's new statutory status. Details of the new framework for Relationships and Sex Education can be found on the Department of Education's website.
The new RSE and Health curriculum requires schools to teach lessons on the following topics:
Families
Respectful relationships, including friendships
Online and media
Being Safe
Intimate and sexual relationships including sexual health**
Mental Wellbeing
Internet safety and harms
Physical Health and Fitness
Healthy Eating
Drugs, Alcohol and tobacco
Health and prevention
Basic First Aid
Changing Adolescent Body
**Parents have the right to remove their children ONLY from those lessons which come under the heading 'Intimate and sexual relationships including sexual health'. If students wish to attend these lessons without the consent of their parents, they are able to do so during the three terms prior to their sixteenth birthday. If a parent wishes to withdraw their children from 'Intimate and Sexual Relationships including sexual health' lessons then this intention needs to be expressed in writing, and also needs to be approved by the Headteacher.
Schools have a responsibility to provide age appropriate lessons and to inform parents about what is taught and when. The current PSHE curriculum is published on the school website. 'Intimate and sexual relationships' content will be covered in year 10 (terms 1 and 2)
Bristol Healthy Schools Award for Oustanding PSHE 2018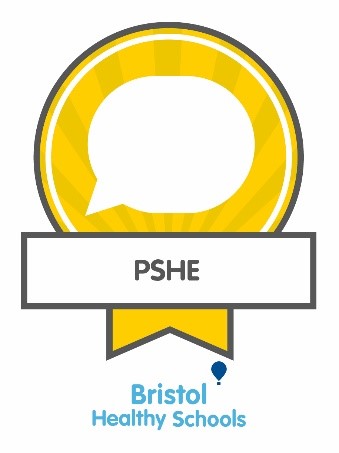 We're really excited to announce that we have passed the Personal, Social, Health and Economics Education (PSHE) Badge badge of the Healthy Schools Awards! We are the first secondary school in the city to pass this new award.
The Healthy Schools Team felt that "this was a very strong submission and it is clear that Cotham is committed to outstanding PSHE. The fact that the school has timetabled, regular lessons for all year groups means that pupils have access to a wide range of health and wellbeing topics, have opportunity to have their voice heard and can make meaningful and informed decisions about their own health and wellbeing. Since the programme of study follows the PSHE Association's 'best practice' guidance we are also clear that what is taught is high quality and meets the needs of young people today. The fact that pupil's in Key Stage 4 are entered in for a qualification also sends a strong message to pupil's that this is a subject that has worth and is important while more officially rewarding their progress. We can see that the school is also committed to PSHE teacher's own CPD as staff have been able to attend multiple training courses and networks year on year which has no doubt ensured excellence in their teaching. Lastly, we can see that the subject is regularly monitored internally and that when students have asked for certain topics to be taught, the PSHE team have responded well."
Ben Saunders, Asst head of Faculty Humanities.
Drug Education
Drug alcohol and tobacco education is statutory in as far as it is included in National Curriculum Science. However the National Drugs Strategy places expectations on schools which require a broader interpretation than is possible in Science. All schools are now required as part of this strategy to have a programme of drug alcohol and tobacco education and a policy for the management of drug related incidents.
At Cotham students study drug education throughout Key Stage 3 and 4. In Year 9 they study the content that is specified in the AQA GCSE course.
Key Stage 3
Alcohol: what is alcohol made from?; % strength of alcohol; units and healthy allowances for adults; increased and high risk drinking and related health issues; social problems of alcohol, including drink driving, underage drinking and alcoholism; attitudes towards drinking, social drinking and peer pressure.
Smoking: Toxic chemicals found in cigarettes; health risks associated with smoking, including Shisha; second hand and third hand smoke and it's potential effect on young children; cigarette litter and how it can be tackled; how government and businesses can try to cut down the number of smokers and prevent young people starting to smoke.
Other Drugs: Drug classifications and what they mean; legality and illegality; potential dangers of legal drugs, including painkillers, solvents, steroids; the potential health risks of illegal drugs; the potential dangers of New Psychoactive Substances ('legal highs') including NOS and cannibinoids.
Drug education at Cotham complies with the desired outcomes of the Drug Education forum which states that drug education should ensure that:
The risk factors associated with drug misuse are reduced, and the protective factors enhanced.
Students have sufficient time and the appropriate atmosphere of enquiry to explore the issues of drug use, societal values in relation to drugs, and to develop their attitudes towards drug use.
Students choose to abstain from drug use, or delay the onset of their first use, or where they are using reduce the harms associated with use.
Key Stage 4
Many issues raised at KS3 are revisited. KS4 focuses on the links between drug use and mental illness, particularly with reference to emotional wellbeing and the world of work.
Safeguarding
The non-statutory framework for Personal, Social, Health Economic Education provides opportunities for children and young people to learn about keeping safe; and who to ask for help if their safety is threatened. As part of developing a healthy, safer lifestyle students should be taught, for example:
to recognise and manage risks in different situations and then decide how to behave responsibly; health and safety in the workplace, recognising hazards and hazard signs; fire safety; keeping safe on the streets; E Safety;
to judge what kind of physical contact is acceptable and unacceptable; consent in sexual relationships; pressure within relationships; 'sexting' and the sending of explicit material via text, email or social sites.
to recognise when pressure from others (including people they know) threatens their personal safety and well-being and develop effective ways of resisting pressure, including knowing when and where to get help; drug safety; CPR training (yr 11); 'Play Your Part' Day (yr 8).
to use assertiveness techniques to resist unhelpful pressure.
See Appendix 2 for more details.
Careers and IAG in PSHEE Lessons
In PSHEE lessons, students will:
access the impartial careers information, advice and guidance that they need, including support with work experience placements.
explain key ideas about careers and career development, including the different types of skills and training offered by employers (appraisal, mentoring, shadowing etc).
understand how work is changing and how this impacts on people's satisfaction with their working lives, including the impact of new technologies and work/life balance.
understand the organisation and structure of different types of businesses.
be aware of what job and labour market information is and what it can do for them.
recognise and stand up to discrimination that is damaging to them and those around them
be aware of the laws relating to young people permitted hours and how to minimise health and safety risks to them and those around them.
understand how to manage their money.
prepare and present themselves well at interview.
present CV and letter of application for a job.
Ofsted
Ofsted
The PSHEE department aims to be outstanding in the following areas:
Students are encouraged to evaluate, discern and challenge their own and others' views using appropriate evidence from a range of sources.
Students should show outstanding understanding of and commitment to their own and others' health and wellbeing.
Students should have an excellent understanding of relationships, sexual development, sexual consent and respect. They should have a strong understanding of the principles that underpin positive parenting.
They should be well aware of the dangers of substance misuse.
They should have a very strong understanding of how to recognise and deal with mental health problems such as stress and eating disorders.
They should understand how to resist peer pressure and where to go to seek advice.
They should understand very well the impact of bullying, including racist, homophobic, disablist and transphobic language.
They should make outstanding progress in developing understanding and skills in relation to business, enterprise, money management and employability.
Appendix 1 - How PSHEE lessons contribute to the self harm agenda
Year 7
Self-esteem and the link between positive self-esteem/self-confidence and success both academically and socially.
Arguments: causes of conflict between parents and children and assertive ways to express themselves.
The causes and impact of bullying and the roles of bystanders (including cyberbullying).
'Healthy Body Healthy Mind': what is mental health; how can you keep your mind and body healthy?
Drug Education: the effects of smoking, solvents, cannabis and alcohol on both physical and mental health.
The importance of getting enough sleep; sleep and its effects on the body and brain.
'Positive parenting': what makes a happy family? What skills to parents need to ensure their children grow up with positive self image?
Adult relationships – what physical and mental consequences might there be from starting a sexual relationship too early (including teenage pregnancy)?
Hormones and their effect on the body and brain during puberty.
Year 8
Stereotypes – positive and negative stereotypes and how they are related to homophobia, sexism, racism and disablism.
Homophobic bullying: causes and impact on identity and self-esteem (from both the bully and victims perspective).
Sexism: how are boys and girls treated differently? Are there different expectations of how boys and girls should behave? How does the media, clothing and toy manufacturers stereotype girls and boys – does this have an impact of self-image and the choices boys and girls make in the future?
How can the global nature of the internet promote positive images of disabled people/tackle racial and national stereotypes etc.
Racism: how should Bristol recognise its role in the Slave Trade? Building positive images of black contribution to local history.
Racist bullying – how cultural differences can be understood.
Recognising potentially abusive behaviour in relationships.
Self Harm: how is it linked to emotional health; how to people self harm/why do they do it? What can be done to help people who self harm?
Body Image: how do magazines, pop videos etc promote an unrealistic idea of body perfection; the effect of airbrushing in photographs; links to self esteem and confidence.
Year 9
Drug Education: the effect of drugs (including alcohol) on mental health and wellbeing.
Risk factors associated with drug taking, including mental health (with particular reference to Cannabis and legal highs)
Reasons why people are attracted to certain types of drugs; stimulants, depressants, hallucinogens; understanding the causes of addiction and its potential effects.
SRE
Understanding the importance of consent and respect in a healthy relationship. Ownership of own body (including FGM, sexual assault/rape)
Understanding power relations in relationships and how an imbalance of power can lead to abuse. Understanding healthy behaviours, pressures in relationships.
The importance of safe sexual behaviour, including contraception, and the pressures surrounding sex (eg how to deal with someone who refuses to use a condom).
Signposting organisations that can help young people deal with sex and relationship issues.
Positive parenting: Maslow's hierarchy of needs; how can parents help the emotional and physical development of their children? What responsibilities do parents have towards their children?
Year 10/11
Stress: its causes, effects and ways to deal with stress. Understanding the link between physical and emotional wellbeing.
Prejudice and discrimination and its potential physical and emotional effects in society and the workplace, including sexism, racism, homophobia and disablism.
Self concept; what factors affect self concept?; recognising the physical, intellectual, emotional and social aspects of wellbeing (PIES) and applying them to real life situations. Recognising how a healthy balance of PIES can affect how a person responds to expected and unexpected life events (link to developing emotional resilience).
Different types of legal adult relationships (marriage, cohabitation, civil partnerships) and how they might contribute to personal wellbeing.
The role of different charities and organisations dealing with mental health or relationships (eg 'Mind', 'Relate').
Recognising the importance of financial wellbeing: the benefits of earning your own money; the importance of budgeting for the future and avoiding debt. The link between money and emotional wellbeing.
The link between PIES and the world of work; building positive professional relationships; recognising personal worth and achievements (writing a CV, applying for jobs).
The potential effects of drug use or alcohol on a person's worklife.
How technology such as smartphones and email has improved people's work and social lives; how new technologies can affect people's PIES negatively.
Appendix 2 - How PSHEE contributes towards safeguarding at Cotham
Year 7
Students consider what factors can lead to arguments between children and their parents. Students then are then encouraged to look at the situation from the parental point of view.
Students have lessons on self esteem and what effect low and high self esteem can have on their achievement, happiness and outlook, Then, as a class they produce a mural highlighting things that make them feel good about themselves.
Students look at a case study of a boy who was bullied and committed suicide as a result. Focus is on the reasons why the boy was bullied and, in particular, the role of bystanders and issues surrounding homophobic bullying.
Students consider the effect of hormones on the body when puberty occurs. Changes in the body and brain are covered; students come up with techniques on how to cope with hormonal changes.
Students consider a case study of a teenage mother who decides to keep her baby. They discuss and consider what challenges such a person would face, and how she could have avoided getting pregnant.
Students think about hazards that might be encountered in and out of school. Focus in particular on keeping expensive technology safe; tips on how to avoid being mugged for your phone; tagging expensive equipment through the 'immobilise' site.
Safety issues surrounding legal and illegal drugs, with a particular focus on alcohol, smoking and solvents studying scenarios that are high medium or low risk.
Year 8
Students discuss and complete work based on a film 'Fit' produced by Stonewall which focuses on homophobic bullying. Issues include the use of 'gay' as a derogatory term; stereotypical views of what boys and girls are expected to be like; issues surrounding 'coming out'; challenging homophobic attitudes by studying high profile gay people.
Students work together to produce project work based around politics by setting up a political party and producing a manifesto aimed at attracting the votes of young people. Lessons will also focus on how politics can address issues relevant to young people and consider the skills that might be needed to participate in politics and highlight issues that are important.
Year 9
Students study different issues surrounding alcohol and its usage. Students understand about the relative strength of different alcoholic drinks; alcohol units and 'safe' alcohol consumption for adults; dangers of 'pre-loading' and overdosing; assessing safe and unsafe alcohol scenarios; drink driving and how to prevent it; issues surrounding underage drinking and alcohol addiction.
Students are taught about the health dangers of illegal drugs. Students research 3 illegal drugs and feedback their findings to the rest of the class. Students also should understand that drugs have positive qualities and that they are only 'bad' if they are misused. Lessons also cover drugs law and students should understand that there are different classifications that carry different potential penalties.
Students look at examples of legal drugs (including legal highs) and produce written work summarising the potential risks to health.
In SRE students have lessons on contraception (including emergency contraception) and respectful adult relationships. They are taught about how to recognise healthy and unhealthy relationships which leads on to issues surrounding child exploitation, coercive relationships, including such topics as forced marriage and domestic abuse. Students are taught about condoms in particular (their advantages and disadvantages; their history; moral issues surrounding the use of condoms).
Year 10
SRE covers the following:
Parental relationships: responsibilities and qualities needed to be successful parents, understanding 'Maslow's hierarchy of needs'.
Marriage: students discuss the importance, or otherwise, of marriage, including good and bad reasons for getting married. Students should also understand the difference between arranged and forced marriage.
Consent: using a resource pack 'Only Yes means Yes' students should understand issues surrounding consent and appropriate and non appropriate behaviour in terms of sexual consent. Students consider how pressure can be applied in relationships and that rape and sexual assault is most commonly committed by people who are known to or in a relationship with the victim (acquaintance rape accounts for 91% of rape cases).
Contraception: students research different methods of contraception and their advantages and disadvantages, using 4YP or Brook websites. They also research STIs, how they are passed on and their respective treatments.
Students consider the reasons why people embark on sexual relationships. They consider how respect can be shown in relationships and how people can be safe. Students are also shown materials produced by Ceop around the subject of 'sexting' and the sharing of inappropriate sexual images.
For more detail, see CEIAG (Careers at Cotham)