Teaching Learning and Assessment
At Cotham School, we believe that all students have the right to receive high-quality teaching that enables them to achieve their full potential. We passionately believe that effective teaching and learning requires a deep understanding of how students learn. Teaching and Learning is grounded in the principles of effective instruction as outlined by Barak Rosenshine and informed by the latest research in cognitive science, which highlights the importance of metacognition, cognitive load theory, and dual coding. Teaching follows the Teaching, Learning and Assessment Principles, Routines and Practices across all lessons as we build effective life-long learning.
THE FOUNDATION: Cotham Principles

THE BUILDING BLOCKS: TLA Practices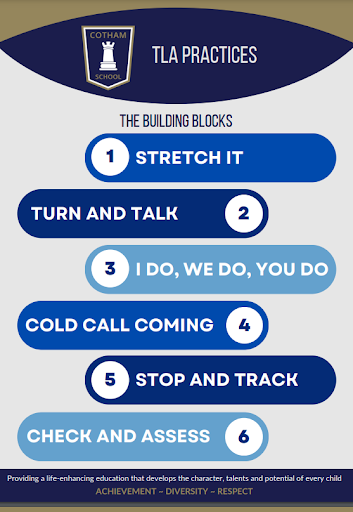 THE CEMENT: TLA Process

Formative and Summative Assessment at Cotham School
Both formative and summative assessment play a pivotal role. Formative assessment strategies such as quizzes, discussions, and peer evaluations, offer ongoing feedback to both teachers and students throughout the learning process. This allows teachers to gauge students' understanding, identify areas of struggle, and adjust their teaching strategies accordingly. Formative assessment empowers students to self-assess, set goals, and actively engage with their own learning, fostering a deeper understanding of the subject matter. On the other hand, summative assessments provide a comprehensive measure of a student's overall knowledge and mastery of a subject at a particular point in time. This helps evaluate the effectiveness of the entire teaching and learning process and offers accountability. Balancing these assessment types creates a holistic approach to education, promoting continuous improvement and ensuring that students not only acquire knowledge but also develop critical thinking and problem-solving skills essential for their future success.
Formative Assessment drives progress

Summative Assessment measures progress

Timing

Embedded into every lesson as a live response to student learning. Informs lesson planning.

Minimum of twice a year. To inform grades entered at formal data points, which are reported home to parents/carers.

Tasks Will

Clarify and share learning intentions.
Elicit evidence of learning.
Allow for diagnosis of misconceptions and areas for development.
Focus on specific content/skills.
Be adapted to the needs of individual students and different teaching groups.
Have shared success criteria.

Be ACCESSIBLE to all students (guidance here).
Be assessed and analysed by the teacher.
Have clear assessment objectives that are mapped into schemes of learning.
Cover a large percentage of the subject domain, not just recent learning.
Take place in exam-style, controlled conditions.
Be uniform across all teaching groups and all students, except where access arrangements have been defined in Learning Plans.
Involve standardisation (in advance of grading), and moderation or comparative judgement subsequent to this.
Be included in work checks after grading.
Produce consistent grades with shared meaning across all subjects.
Match the style of external / exam board assessment in Y10-13.

Feedback Will

Measure grasp of the learning intentions.
Diagnostic, with a clear next step for improvement to move learning forward.
Activating learners as learning resources for one another.
Activating learners as owners of their own learning.
Actionable for the learner and manageable for the teacher.

Be given back to students within a dedicated and planned Feedback Lesson(s) shortly after the assessment taking place.
Make use of Assessment Analysis (QLA or teacher review of skill acquisition) to identify missing / inaccurate threshold concepts and skills.
The Feedback Lesson(s) will include:

Reteaching f identified threshld concepts and skills (using exemplars).
A DIRT activity (Dedicated Imprvement and Reflection Time) which students must complete in green pen and clearly labelled as DIRT wrk in the title.

Strategies

Carefully designed tasks with feedback in mind (elicits evidence of student thinking).
Verbal feedback.
Live marking.
Whole class feedback.
Code or dot marking.
Checklists.
Peer feedback.
Self assessment.
'All student' response systems.
Effective questioning.

Full or partial past exam papers (Y10-13).
Faculty-generated tasks connected to schemes of learning (Y7-9).
Seneca assignments.
GCSE Pod exam-style assignments.
Self-marking Google Form.
Subject-specific digital platforms.

Summative grades will be:

Accessible to Faculty leaders either in shared spreadsheets or in SIMs, and analysed to identify and act on patterns across and between classes.
Analysed by Learning Coordinators / P16 Team / SEND Team / SLT to identify patterns of under-performance across subjects and inform intervention.